Hey there!
Because of live-map no longer existing, I decided to start using a different way to manage coordinates, and where faction bases are.  It worked really good so far, and I was able to share it with my own faction.  So I decided to show everyone how to do it.  
Things Needed:
Google account
Google Spreadsheet
Everything listed is 100% free, and can be used for many other things, outside of factions.
Benefits:
Management of coordinates, and bases.
Easily shareable throughout a team!
Very easy to do
Tutorial:
There is both a video, and a written explanation with pictures.  I decided to do both because my mic quality is really bad.
Explanation:

(This explanation shows only what I did in the video)
Step 1:
Create a new google Spreadsheet.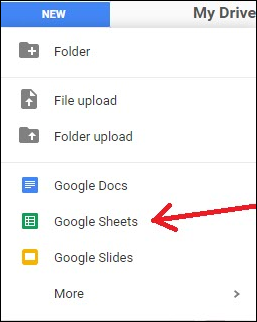 Step 2:
Insert the following text in the cells listed.
Cell A1: Faction Name
Cell B1: x-Coordinate
Cell C1: y-Coordinate 
Cell D1: z-Coordinate
Cell E1: Nearest Stargate

Step 3:
Insert the color key.
Highlight cells G1:I10

Click the "Fill color" button and select a color. (I choose gray)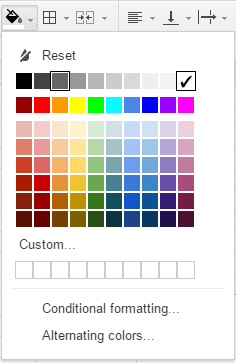 Type:
Cell H1: Key
Cells H2:H9 are where you can put the colors of the key.
Here are some examples of colors and things to sort by: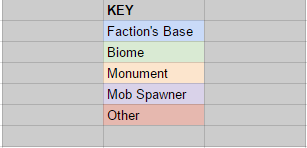 You can change the color by selecting a cell, and then clicking the "Fill color" button, just like above!
Congratulations, you have finished the tutorial, but there are some really useful things you could add on as well!
Step 4:
Finishing up the sheet with some cool things!
One cool thing you can do, is add a new sheet for each faction you find.  In this sheet you can store some information about who is in it.
Start out by making a new sheet.  You do this by clicking the plus symbol at the bottom of the screen!

Rename the sheet, by right clicking the tab and clicking "rename".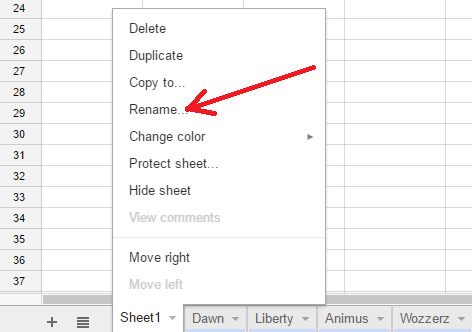 From here, you just need to do a little bit more typing.
Cell A1: Player
Cell A2: Rank In Faction
You have now completed the last step.
Usage:
I really hope you can figure out you put the information under the cell with the category in it.
For example, You put the faction name under cell A1(Faction Name).
If it is a faction's base, you color it so the key shows that.  Same with everything else.
Conclusion:
I hope this can help a few people and their factions stay organized with coordinates.  I made this to promote more action between factions, because bases coordinates can be stored, and shared between members!
Thanks for giving this a look
~SkipTheBekfist